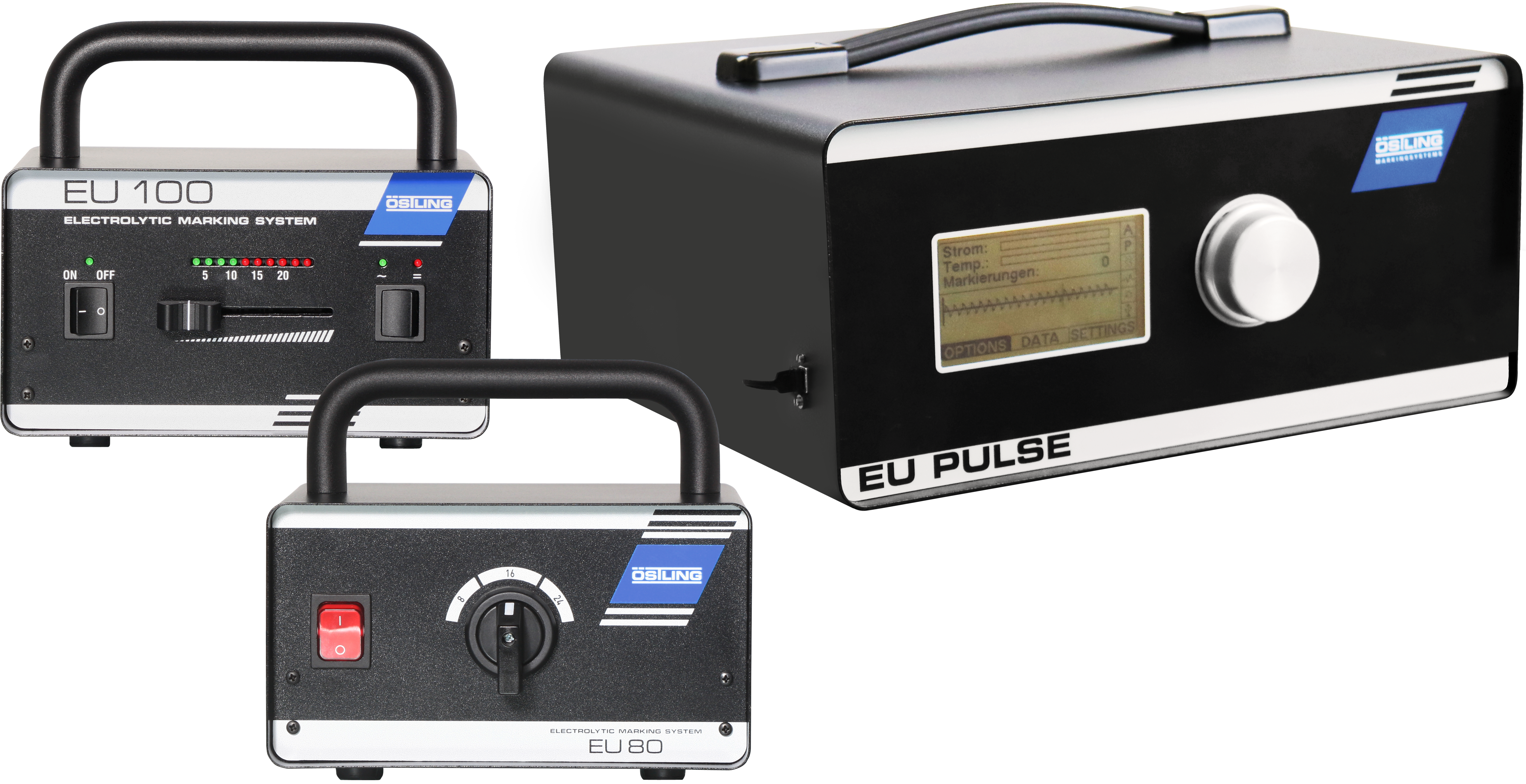 Electrolytic marking devices


for professional use
EU Pulse
Automation-capable electrolytic marking devices for professional use by Östling.
The technically most innovative electrolytic marking system worldwide.
Technically speaking, electrolytic marking is very simple: except for a device that supplies the energy and the electrolyte, only one marking head is needed. A stencil is clamped onto the marking head or placed directly on the workpiece to be marked. The marking head and the workpiece are connected to the control unit. As soon as the marking head soaked with electrolyte is pressed onto the workpiece, the electric circuit is closed. Current flows and the workpiece is marked with an exact copy of the template.
IP54
protected housing
USB host mode for memory stick
Communication via USB
Optimized menu navigation Micropulse operation
Blocking function
Materials database
Sequence preview in the graphic display
Different signal shapes can be combined
Time flexible control sequences
Polarity configurable in DC mode
Different positive and negative half waves in AC mode
Galvanically isolated digital I/O control signals
Safety extra-low voltage (SELV)
Individually created configurations can be saved
…
For further information please refer to the technical data or contact our team personally.
EU 80 and EU 100
The inexpensive handheld and control devices for entry into electrolytic marking
The EU 80 is the inexpensive entry into the world of electrolytic marking. Ideal for serial numbers and small markings in general.
The EU 100 can generate direct current as output voltage in addition to alternating current. Thus depth markings are also possible.
Further information can be found in the technical data or in a personal conversation with our team.
[table id=5 responsive=scroll responsive_breakpoint=device /]
Electrolytic equipment – Everything you need for electrolytic marking is available from us.
From own production of Östling – Quality Made in Germany.
Whether you have a manual workstation, a semi-automatic system or a fully automatic solution: You will have a hard time confronting us with a problem that we have not already solved in the electrolytic area.
We can offer you a solution for the most diverse product shapes, sizes and other requirements.
Electrolytic marking is still a cost-effective solution for achieving first-class and durable marking results quickly and elegantly with simple means.
Further information about electrolytic accessories can be found here.