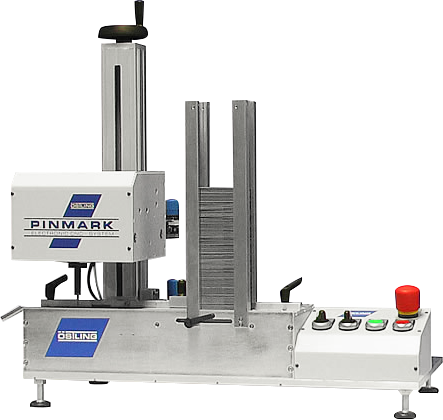 Type plate magazine


load magazine – mark automatically – eject – ready
Type plate magazine TM 100 – Type plate embossing in the simplest way with the PinMark nail marker – Type plate magazine TM 100
load magazine – automatically mark – eject – ready
The type plate magazine TM 100 is the direct result of the wishes of our customers. It can be adapted fast and simply individually to your respective needs.
Due to its simple and light construction the device works absolutely process-safe. After filling, the TM 100 type plate magazine can be used fully or semi-automatically and can be easily combined with all Östling PinMarkneedle embossing.
Process description
The type plate magazine is first loaded by hand. After pressing the start button, the type plates are automatically pushed under the marking head by a pneumatically driven sliding carriage, fixed, marked and then ejected into a collecting container with the desired metal engraving.
Optionally, the marked plates can be placed in a FIFO stacking magazine with the TM 100 type plate magazine. In principle, the nameplates should be completely burr-free. The system works independently in automatic mode. This means either until the magazine is completely emptied or a preset number of plates is engraved.
| | Typenschildmagazin TM 100 |
| --- | --- |
| T x B x H | 600 x 580 x 300 mm |
| Gewicht | 24 Kg (inklusive Nadelpräger PinMark 5/10 und Z-Achse) |
| Fassungsvermögen | 300 mm |
| Taktzeit | 0,1 mm |
| Typenschildgröße | Min. 32 x 30 mm / Max. 100 x 100 mm |
| Größeneinstellung | Stufenlos |
| Optional | Stapelfunktion |
| Energie | 100-230 V / 50/60 Hz |
| Druckluft | max. 6 bar, 6 mm Luftanschluss |

Needle embossing accessories for needle embossing systems, needle embossers and needle scribers
We have a complete range of accessories available for you so that you can exploit the full potential of your marking system for metal marking. Here are some examples of the needle marker-/score range:
rotation axes for round parts, so that the marking needle always perfectly matches the object to be marked

High axes in all versions (manual, electric, pneumatic, fully automatic)

barcode scanner for convenient reading and activation of data to be marked

2D-Code Cameras for automatic reading of previously marked data

needle systems for various applications, materials and degrees of hardness

Different housing variants so that the Östling needle embossers / scribers fit perfectly into your operating environment

Spare Parts all kind directly from the manufacturer – Quality Made in Germany
For more information about needle embossing accessories, see here.