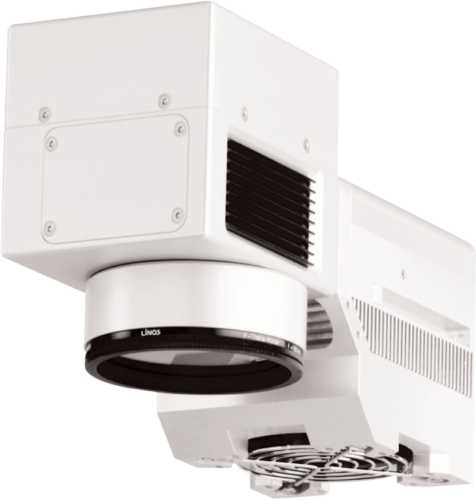 XL technology in XS format
Highlights
[table id=71 responsive=scroll responsive_breakpoint=device /]
XL technology in XS format
4 kilogram marking head for laser marking
LasOnAll XS – This laser ensures extra compact and powerful laser marking on all surfaces.
With its compact, cubic design, the LasOnAll XS laser becomes an ideal piece of industrial design. 245 x 145 x 100 mm3 Volume at a weight of approx. 4 kg marking head are the dimensions of the LasOnAll XS laser. Therefore, in contrast to the heavy and space-consuming resonators of comparable marking systems, the most striking difference is the much easier integration in the smallest space.
In the further development of this model, not only the architecture but also the technology of the laser unit of the LasOnAll XS were fundamentally revised. Thanks to its significantly improved ergonomics and efficiency, CW outputs of up to 200kW peak power can now be achieved with minimum dimensions.
This allows the greatest possible flexibility in different application areas and applications of laser marking. As a diode-pumped solid-state laser, the LasOnAll XS from Östling, unlike the fiber-based systems, has no problems with optical back reflections, such as can occur when laser marking copper, brass and other highly reflective materials for this wavelength range.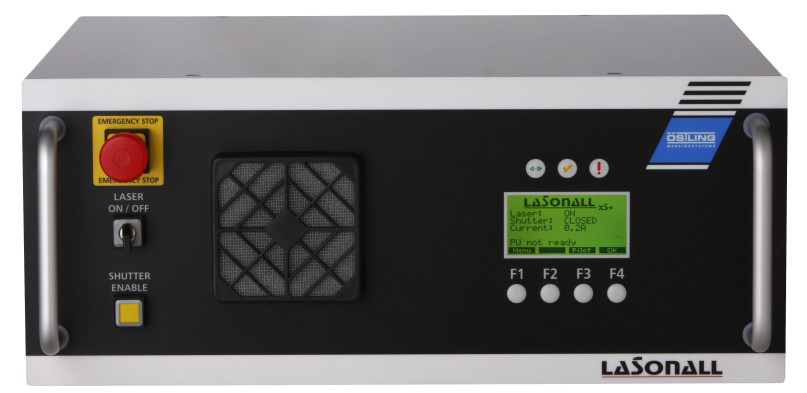 For the LasOnAll XS laser, Östling offers an industry-compliant standardized 19-inch rack. This laser control unit contains all power and control electronics and is also considered a lightweight in its class, weighing around 14 kilograms.
A plus in flexibility and user-friendliness is certainly that the laser control unit only has to be connected to a Windows computer or laptop via a USB cable via "Plug & Play" in the simplest case.
This fact and the extremely low weight for the complete package make it possible to integrate the LasOnAll XS laser extremely flexibly into almost all industrial environments without any problems.
Further features
Highest security
Two safe inputs up to PL e (Cat. 4) according to EN ISO 13849-1
Quality
Unsurpassed flexibility with high quality
Cooling
Thermoelectric air cooling
Laser diode
Extremely long service life of the laser diode
Development
Many system components from own development
OEM
OEM models and complete solutions available
Software
User-friendly software under Windows XP / 7 / 8 / 10
Special machines
Precisely adapted to your needs through in-house special machine construction
Competitive in the fiber segment
The diode service life of the XS series is in no way inferior to that of the fiber lasers, whereby in the case of maintenance only the change of the diode module is necessary. In contrast to this, the fiber system in most cases requires an exchange of the entire laser unit with a complete stop of the laser marking.
In addition to maintenance, the energy balance of the LasOnAll XS laser is also particularly efficient. With the 20 Watt version, the power consumption is only max. 600W.
The Östling LasOnAll XS family is available as standard in the variants XS5 (5W), XS10 (10W), XS20 (20W), XS30 (30W) and XS40 (40W).
All LasOnAll XS models are pure air-cooled and do not require additional water cooling.
The working distance to the workpiece for laser marking depends on the F-Theta lens used. PDF Download: LasOnAll XS Arbeitsabstand Resonator.
For our various laser marking systems we have an extensive range of accessories available. With different options you can extend the functions of our marking lasers. Below are a few examples of our comprehensive range of laser accessories:
Different housing variants for complete solutions
Rotation axes for round parts, so that the processing distance and laser beam are always perfectly and precisely aligned with the object to be marked.
Height axes in all possible designs (manual, electric, pneumatic, fully automatic)
Axis control UMC box Laser for controlling two additional functions, such as height axis and positioning axis. The rotary indexing table and magazine can also be controlled. With this optional laser accessory, cycle times for laser marking can be greatly reduced.
Barcode scanner for practical reading and activation of data to be marked
Camera systems for automatic machine reading of previously marked data such as 1D, 2D and DataMatrix codes (Please have a look at our information on HIBC and GS1)
Lenses for various applications / marking field sizes and workpieces / materials
Spare parts of all kinds for our marking lasers
Laser safety goggles for different wavelengths available on request
Anybus Communicator PROFINET IRT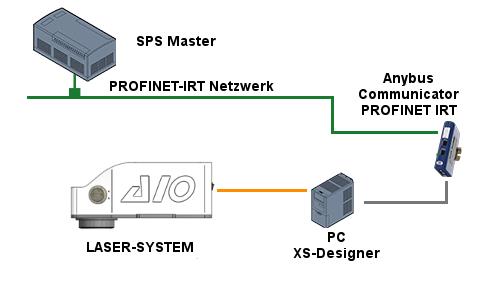 With the Anybus Communicator you can integrate serial devices (RS-232/422/485) into a PROFINET-IRT network. The Anybus Communicator is a proven and reliable protocol converter that connects non-networked devices to PROFINET-IRT. The Communicator performs intelligent protocol conversion and provides the serial data of the higher-level PLC as I/O data. The Communicator is a compact stand-alone gateway for IP20 and DIN rail mounting that requires a 24-volt power supply. It complies with the current PROFINET-IRT specification and has been successfully tested for network compatibility.
More information about laser accessories can be found here.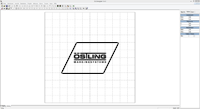 The XS Designer software combines marking software, CAD editor, parameter and interface management, sequence programming and diagnostic tools. This Windows-based marking software makes laser technology easy to master.
Further information about the XS Designer software can be found here.