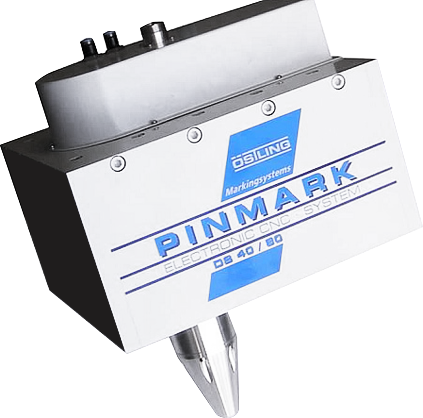 DeepScribe marking system


for extremely deep and permanent markings and product labels
DeepScribe is a scribe marking system for extremely deep and durable markings and product identification
We have developed the DeepScribe scribing system for extremely deep and permanent markings that have to be applied directly to components.
The device is optimized for permanent marking with VIN (see INFO*) directly in cast steel and aluminium. The metal marking of numbers and other data engraved into the material in this way can only be removed with considerable mechanical effort.
The system consists of a specially developed built-in marking head and a special scribing tool. The marking head has particularly stable linear guides and spindle drives. It is low-maintenance; lateral maintenance openings have been provided for rapid replacement of the toothed belts.
The stroke of the scribing needle is 8 mm. Since the restoring force is not realized by a mechanical spring but by a second compressed air connection, the penetration depth can be adjusted very precisely.
Due to the high power requirement, the DeepScribe system is supplied with a modified controller UMC 112.
INFO*:
Vehicle Identification Number, standardized in ISO 3779:1983 (Road vehicles – Vehicle identification number), is an internationally valid numbering system for the identification of vehicles. The German translation is FIN and means vehicle identification number. This standard is still valid today.
[table id=38 responsive=scroll responsive_breakpoint=device /]

Needle embossing accessories for needle embossing systems, needle embossers and needle scribers
We have a complete range of accessories available for you so that you can exploit the full potential of your marking system for metal marking. Here are some examples of the needle marker-/score range:
rotation axes for round parts, so that the marking needle always perfectly matches the object to be marked

High axes in all versions (manual, electric, pneumatic, fully automatic)

barcode scanner for convenient reading and activation of data to be marked

2D-Code Cameras for automatic reading of previously marked data

needle systems for various applications, materials and degrees of hardness

Different housing variants so that the Östling needle embossers / scribers fit perfectly into your operating environment

Spare Parts all kind directly from the manufacturer – Quality Made in Germany
For more information about needle embossing accessories, see here.