Company – the ÖSTLING Group
In the middle of the 18th century, steel experts of Walloon origin emigrated from Belgium to northern Sweden. Their names were Pierro. In the up-and-coming steel mill district of Sandviken, they achieved prosperity, bought a manor and changed their name: ÖSTLING.
Their interest in technology remained unchanged. They developed machines, e.g. to extract peat rationally, to form steel or to produce nails.
This innovative thinking and the motivation of his ancestors shaped the founder of the company, Rolf Östling.
He was born in 1945 in the port town of Gävle in Sweden. After graduating from high school and studying industrial engineering, he had the idea of developing a labelling system.
In 1968 he started to build a machine in a tiny dark cellar.
His first customers were the companies Sandvik (the world's largest carbide producer) and Svenska (ball bearing factory).
Innovations such as corrosion-free electrolytes and stencil material with very long service lives helped to further expansion.
Then in 1978 he moved to Germany (Essen) and founded the company ÖSTLING Vertriebs GmbH.
In 1979, the company headquarters were moved to Solingen, as the cutlery and cutlery industry in the Klingenstadt has a worldwide reputation and market potential is concentrated here.
Due to the constant expansion, especially in export, the company moved again within Solingen in 1988 in order to meet the development and space requirements. The company is renamed ÖSTLING Markiersysteme GmbH.
2003 the company STOMMEL+VOOS Marking Technologies GmbH from Solingen becomes an important part of the worldwide represented ÖSTLING group. Through this merger, solutions and technologies for all problems of industrial marking in the daily production process are offered from a single source.
The product range of STOMMEL+VOOS includes e.g. stamping tools, hand punch, Räder-Stempelwerkzeuge, disc punch or type holder. In addition, the company STOMMEL+VOOS also offers needle marker, scriber-printer, presses, stamping machines, marking machines, high-tech robot marking machines and special machine construction.
Through the acquisition of further companies, further expansion and internationalisation, ÖSTLING Markiersysteme GmbH becomes ÖSTLING Marking Systems GmbH in 2013.
At the same time, the foreign sales offices in the Sweden, Switzerland, Singapore, China (Shenzen and Hong Kong), France, England and the USA.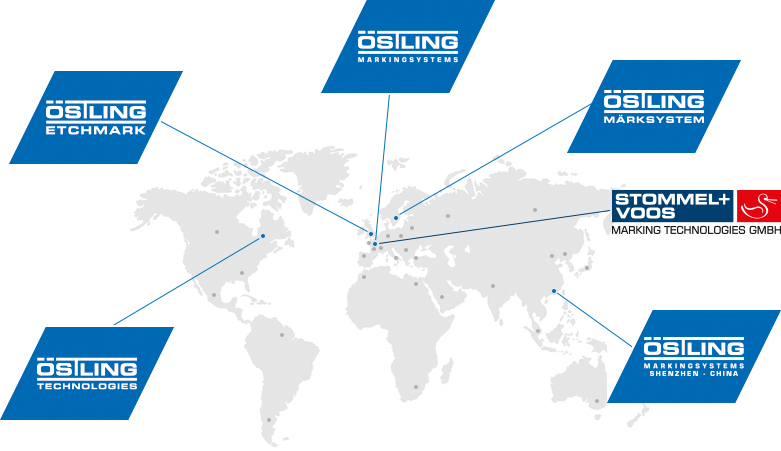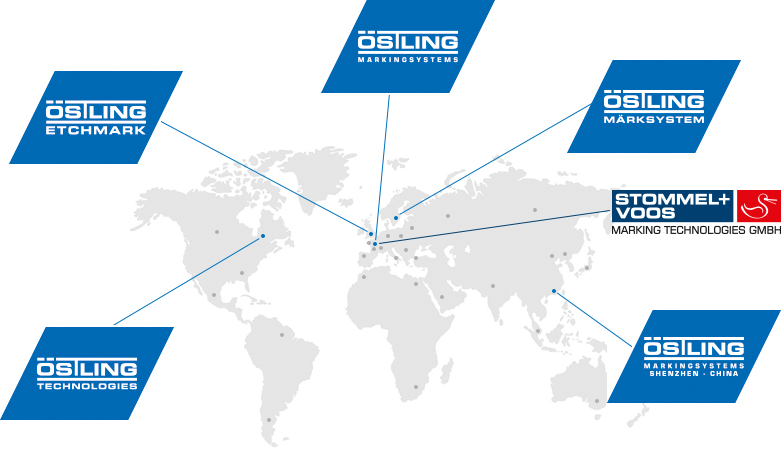 In the German headquarters in Solingen, a modern development and production centre has been established, where hardware and software development is carried out.
The ÖSTLING Group now offers marking systems for almost every product.
For almost 50 years now, the ÖSTLING Group has been one of the world market leaders in product marking. The family-owned company is the pioneer of electrolytic marking.
In addition to dot peen marker and scriber, the product range also includes state-of-the-art technologies such as laser marking and vision systems as well as special mechanical engineering tailored to individual customer requirements.
Customers appreciate the safety, reliability and compatibility of ÖSTLING products. Thanks to the production at the headquarters in Solingen, the predicate "Made in Germany" and "Quality from Solingen" are written in capital letters.
Marking systems of the ÖSTLING Group not only set standards with regard to their technical specifications, but also with regard to safety-relevant properties. Especially when working with lasers, the hazard potential is considerable. In this area, the company is far ahead of its competitors with triple-secured safety systems. No other manufacturer in this field has been able to demonstrate this so far.
"Play it safe together with us".
This is the motto of the development department at ÖSTLING Marking Systems GmbH.
Go green!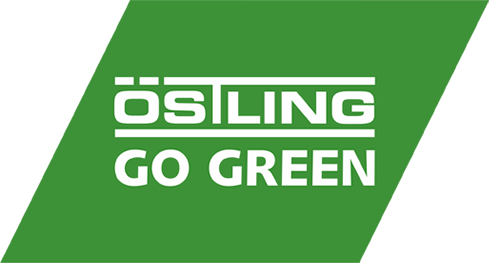 For many years the ÖSTLING Group has been anxious to eliminate hazardous substances from our products. We are also concerned that our products in production at the customer's site keep waste generation and environmental impact as low as possible. Our laser products deserve special mention. In addition to the consumables that are not required, the pollutant-free labeling and the exemplary energy balance offer sustainable and thus ecological added value.
Marking? What for?
Among other things, markings serve the following purposes:
Traceability (product traceability)
In the event of recalls of defective products, the affected companies suffer high image-related and above all financial losses. The main reason for this is the lack of ability to detect quality defects in the company in good time and to quickly and effectively isolate affected products and product components along the supply chain.
Branding
Design is an indispensable component of successful brand management and an integral part of a customer-oriented corporate strategy. The professional design of products contributes directly to added value. Appealing design creates added value when launching new products, gaining market share and pursuing pricing policies.
anti-counterfeiting
Supposedly cheap car parts are quickly ordered on the Internet. The cheap parts (mostly from China or Eastern Europe) are often counterfeit. Due to their short lifespan, bargain hunters have to pay for them in the end. Counterfeits of safety-relevant parts can lead to serious accidents and life-threatening situations. For example, inferior brakes can significantly increase the braking distance or cracked rims can break apart. Counterfeits are sometimes very difficult for dealers and car mechanics to recognise, not to mention the end customer. With our marking solutions, originals can be clearly marked and legally identified.
Other areas of application include test and quality seals, anti-theft protection, type plates, labels (e.g. recycling symbols), consumer protection and product quality assurance.