Company
Experience and competence
For almost 50 years, Östling Marking Systems has been one of the world market leaders in product marking. Our family-owned company is the pioneer of electrolytic marking. This marking technology was developed by Rolf Östling, founder of the company and managing director, during his studies in 1968. In addition to dot peen marking and scriber, our product range also includes state-of-the-art technologies such as laser marking and Vision systems as well as products tailored to individual customer requirements special machine construction. The development and manufacture of the components is carried out completely in-house on the basis of the know-how we have acquired over decades. Our customers appreciate the safety, reliability and compatibility of our products. Thanks to the production at our headquarters in Solingen, we attach great importance to the "Made in Germany" label. Our systems not only set standards with regard to their technical specifications, but also with regard to safety-relevant properties. Especially when working with lasers, the danger potential is considerable. In this area, our company is far ahead of the competition with triple-secured safety systems. No other manufacturer in this field has been able to demonstrate this so far. Play it safe with us.
Competence from a single source with Östling Marking Systems.
Go green!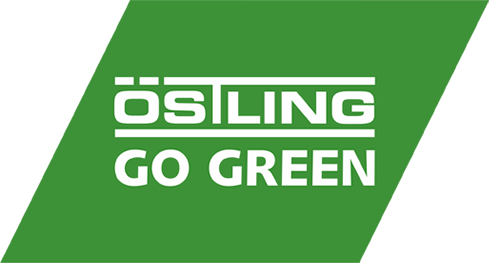 For many years Östling Marking Systems GmbH has been anxious to eliminate dangerous substances from our products. We are also concerned that our products in production at the customer's waste and environmental impact as low as possible. Our laser products deserve special mention. In addition to the consumables that are not needed, the pollutant-free marking and the exemplary energy balance offer a sustainable and thus ecological added value.
Service
Our extensive service begins with the first contact. Our highly qualified staff will be happy to advise you according to your needs. After determining your requirements and the sending of sample components , we begin directly with the development of possible solutions. After the preparation of feasibility studies and subsequent selection, detailed tests are carried out with free pattern markings. You can compare the results on site in our company at your leisure in order to decide on the optimal solution. We would also be pleased to show you around our showroom to give you an understanding of our extensive product range.
Training courses
Schulungen of your operating and maintenance personnel on site (theoretical and practical training) during the testing of your special machine is an integral part of the Östling Marking Systems GmbH scope of supply.
Training of standard products at your production site during the commissioning of your system is also possible for a minimal surcharge.
Marking? What for?
Among other things, markings serve the following purposes:
Traceability (product traceability)
In the event of recalls of defective products, the affected companies suffer high image-related and above all financial losses. The main reason for this is the lack of ability to detect quality defects in the company in good time and to quickly and effectively isolate affected products and product components along the supply chain.
Branding
Design is an indispensable component of successful brand management and an integral part of a customer-oriented corporate strategy. The professional design of products contributes directly to added value. Appealing design creates added value when launching new products, gaining market share and pursuing pricing policies.
anti-counterfeiting
Supposedly cheap car parts are quickly ordered on the Internet. The cheap parts (mostly from China or Eastern Europe) are often counterfeit. Due to their short lifespan, bargain hunters have to pay for them in the end. Counterfeits of safety-relevant parts can lead to serious accidents and life-threatening situations. For example, inferior brakes can significantly lengthen the braking distance.