Certification & Partner
Certificates and memberships of ÖSTLING Marking Systems GmbH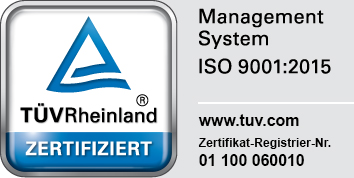 ISO 9001 – Quality with system
The quality management standard ISO 9001 is the most widespread and most important national and international standard in quality management (QM). Certification according to ISO 9001 is possible for companies and organizations of all sizes and in all industries and forms the basis for the continuous improvement process of the company's internal quality management system (QMS).
ISO 9001 defines the minimum requirements for a quality management system that companies must implement in order to meet customer requirements and other requirements for product and service quality. With the introduction of a QM system, it is possible to
Example
the transparency of operational processes is increased
higher customer satisfaction can be achieved
the error rate and thus costs are reduced
An essential principle of ISO 9001 is process orientation.
A process-oriented QM system accompanies all essential operational processes and puts them to the test. This allows optimization possibilities to be uncovered even in good organizations.
Further information on ISO 9001 can be found here.
Östling is now Approved HIBC Solution Provider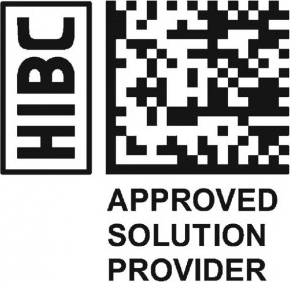 What is HIBC?
HIBC stands for "Health Industry Bar Code", but is also synonymous with the member association of the same name.
Technically, HIBC defines the standard as a globally unique structure, originally developed in 1986 for barcodes, which is now used with modern symbologies such as Code 128, DATAMATRIX and QR-Code, as well as RFID. Thus all common marking variants can be used with one data structure.
With the HIBC manual documentation is avoided and processes are secured. The Health Industry Barcode (HIBC) is a special form of the barcode and was developed and optimized especially for the health service and in particular for medical and dental products. The HIBC contains the necessary information for the legally required safety plans and the associated traceability.
HIBC can carry original references to products, eliminating the need for secondary number ranges. In practice, this means that manufacturers can continue to use their grown article numbers even if they consist of more than 5 digits and alphanumeric characters, without having to build up a reference number as a short code. Users appreciate this feature of HIBC codes with capacity for 2 to 18 digit product codes and associated variables LOT, serial number, expiration date, quantities. The HIBC emblem "Scan here" is used for operator guidance, which also indicates as a HIBC RFID emblem that an RFID chip is available.
Behind HIBC stands EHIBCC-D as the member representation of the "European Health Industry Business Communication Council" for the German speaking countries. From here the support for the users of the "Health Industry Bar Code (HIBC)" and the automatic identification in the health service is carried out.
Further information on HIBC can be found here.
Our customer, in-Tec Bensheim GmbH, has achieved the status of a recognized HIBC Solution Provider by using the Lasebox. The specifications of the worldwide system for uniform product labelling for medical products UDI (Unique Device Identification) can thus be implemented in-house. Source: in-Tec Flyer
Östling is GS1 Solution Partner
GS1 Germany stands for efficient cross-company processes along the value chain. GS1 Germany systematically promotes the implementation of identification, data carrier, communication and process standards for customers from various industries. The solutions are practical and are always geared to the markets and trends. The intensive exchange with company representatives from all areas and functions creates a high level of acceptance and investment security.
More transparency with GS1 standards
Whether articles, locations or transport units: GS1 identification and classification numbers support you from procurement through logistics to sales. With barcodes or radio frequency technology (RFID), information can be captured quickly and accurately. Communication and process standards from GS1 enable you to exchange information electronically with partners and control processes efficiently across companies.
GS1 standards ensure that your value chain becomes more productive and transparent at all points. Further information about GS1 can be found here.
Use our know-how to your advantage!