XS Designer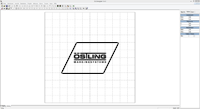 The XS Designer software combines marking software, CAD editor, parameter and interface management, sequence programming and diagnostic tools. This Windows-based marking software makes laser technology easy to master.
What can the XS Designer do?
The XS Designer software enables the creation of graphical files that serve as the basis for laser marking. The complete laser software package consists of the following components:
USB laser control card (LazeCard); integrated in the laser

USB/Ethernet driver of the laser control card (LazeCard); depending on model

ActiveX, COM server, VBS,… Interfaces
Control program Laser Control for setting the system parameters

Graphic editor XS Designer for creating projects to be transferred to the laser
The file to be marked is created graphically with the laser software XS Designer. With this program vector, bitmap and photographic markings can be created.
The markers can contain the following components:
Strings

Date/Time (also user-defined)

Counters

Bitmap (BMP, JPG, GIF)

Elements: Lines, rectangles, circles (filled and unfilled)

Strichcodes: Code 2/5, Code 3/9, Code 128, EAN 8/13, UPC
More than 60 different 1D and 2D codes in total
The software can control up to a maximum of three linear and one rotational axis.
The XS Designer enables the graphical creation of markings that are suitable for the DPSS laser marking systems from Östling Marking Systems.
The program has 2 different modes:
Operating mode "Working": only allows marking, i.e. the current data cannot be changed in any way. In this operating mode, the program automatically updates all "active" components (e.g. date or counter) at each marking start and end. The operating mode "Working" can be locked with a password.
Edit Mode: allows you to create/change vector, bitmap, and photographic data that can be transferred to the marking system.
XS Designer offers advanced features to create marking projects and simpler workflows to create a single project. Vector graphics, bitmaps or photos/graphics can be inserted into these projects, and axis control mechanisms or marking sequences can be assigned.
The software includes advanced features for solving custom tasks using scripts in Visual Basic, using Active Script technology.
Through active in-house development, we are able to constantly develop the software further and provide our customers with the new updates at any time.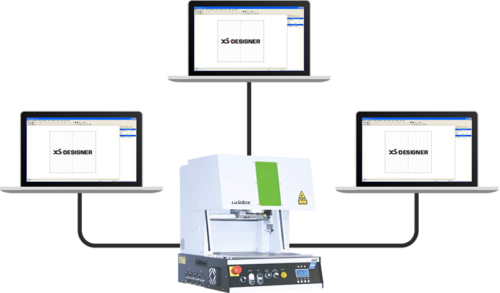 The XS Designer for any number of workstations
You can easily install the software on any number of workstations, no USB dongle is required! We deliver as many licenses as you need without additional costs.
Insert graphics into XS Designer:
Two-dimensional graphics created in other applications (AutoCAD, Corel, Macromedia, Adobe, etc.) can be inserted into projects in XS Designer.
The following file formats can be imported:
DXF, PLT, BMP, JPG, GIF, HPGL
A format comparable to BMP. It can be generated by appropriate graphics programs, digital cameras or scanners.
The imported graphic can be freely positioned in the working area and then modified, resized and rotated so that it matches the object to be marked.
*Please note the Bedingungen für Laserdateien.