XS Designer marking software
The XS Designer software combines marking software, CAD editor, parameter and interface management, sequence programming and diagnostic tools. This Windows-based marking software makes laser technology easy to control.
What is the XS Designer software?
The XS Designer software enables the creation of layouts that serve as the basis for laser marking. This software is an internal-development of the ÖSTLING company and is constantly being updated and improved through active in-house development.
The XS Designer offers advanced solutions for creating marking projects and workflows. Vector graphics or bitmaps (photos/graphics) can be inserted into the marking projects, and axis control commands and marking sequences can be assigned. The software includes advanced functions for solving customer specific tasks by means of user-defined sequences via embedded VB script or by using the Active X (COM Server) interface.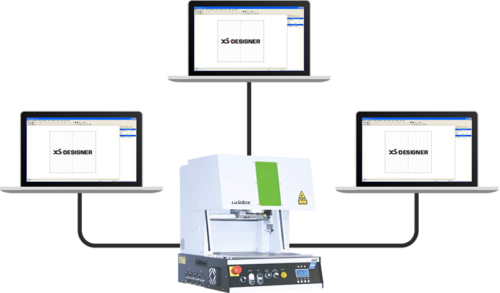 The XS Designer for any required number of workstations
You can easily install the software on as many workstations as you like, no USB dongle is required! We deliver as many licenses as you need without additional costs.
USB/Ethernet driver of the laser control card: LazeCard depending on model
ActiveX, COM server, VBS,… interfaces
Control program Laser Control for setting the system parameters
Graphic editor for creating projects that are transferred to the laser
Extended library: with over 50 codes (1D and 2D); GS1 codes
Control of up to three axes; linear and rotary axis
2 different operating modes: working and editing
Diagnostics and simulator tool
Single-Line, TTF and Type1 fonts
Vector import: SVG, DXF and HPGL(PLT)
Bitmap mode: optimized processing, rotation and grayscale calibration
Elements (filled and unfilled): lines, rectangles, circles,…

Over 100 different 1D and 2D codes in total
The program has 2 different operating modes:
Operating mode "Working": allows only marking, i.e. the current data cannot be changed in any way. In this operating mode, the program automatically updates all "active" components (e.g. date or counter) at each marking start and end. The "work" operating mode can be blocked by a password.
Operating mode "Editing": enables the creation/modification of vector, bitmap and photographic data that can be transferred to the marking system.
Insert graphics into XS Designer
Two-dimensional graphics created in other programs (AutoCAD, Corel, Adobe, etc.) can be inserted into projects in XS Designer.
The following file formats can be imported:
Vector graphics: SVG, DXF, HPGL(PLT)
Bitmaps: BMP, JPG, GIF
*Please note the Bedingungen für Laserdateien.