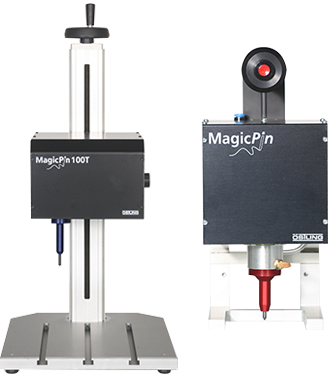 MagicPin Needle embosser


the low priced and high quality entry
While the table model MagicPin 100 T convinces with its large marking field of 10cm x 10cm, the hand model MagicPin H distinguishes itself above all through its flexible and practical operability in everyday working life.
Here we do not economize on quality. On the contrary, the needle embossers of the Magicpin series are also manufactured in Germany and are suitable for industrial use. Metal markings such as DataMatrix codes and serial numbers can also be easily implemented.
The lower price is due to the limited expandability. This means that with high quality the functionalities of the systems are suitable for all essential applications. However, no further expandability is possible, e.g. rotary axes, automatic height axes, type plate magazine. The control is carried out either via the UMC eco or via the UMC box.
Overall, this product is a very good and high-quality entry into the needle embosser range.
For better integration into your company we offer the following design files in PDF and STP/ZIP format:
| | MagicPin H |
| --- | --- |
| T x B x H | 130 x 115 x 260 mm |
| Gewicht | 2,5 Kg |
| Markierfeld | 30 x 50 mm |
| Auflösung | 0,1 mm |
| Geschwindigkeit | abhängig von Markierparametern |
| Steuerung | UMC eco, UMC box |
| Nadelsystem | WE3, WP3 |
| Energie | 230V, 50Hz / optional 115V, 60Hz |
| Druckluft | max. 6 bar, 6 mm Luftanschluss |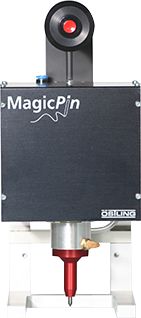 Needle embossing accessories for needle embossing systems, needle embossers and needle scribers
We have a complete range of accessories available for you so that you can exploit the full potential of your marking system for metal marking. Here are some examples of the needle marker-/score range:
rotation axes for round parts, so that the marking needle always perfectly matches the object to be marked

High axes in all versions (manual, electric, pneumatic, fully automatic)

barcode scanner for convenient reading and activation of data to be marked

2D-Code Cameras for automatic reading of previously marked data

needle systems for various applications, materials and degrees of hardness

Different housing variants so that the Östling needle embossers / scribers fit perfectly into your operating environment

Spare Parts all kind directly from the manufacturer – Quality Made in Germany
For more information about needle embossing accessories, see here.