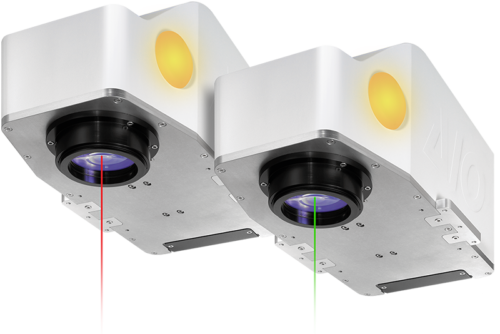 ALL IN ONE laser system
From InfraRED to GREEN
Highlights
Design

Compact, robust housing in lightweight monoblock design

DPSS-Laser

Fully integrated, ultra-compact all-in-one Q-switched DPSS laser with extremely long service life

Highest security

PL e (Cat. 4) according to EN ISO
13849-1
AIO is the most compact Q-switched DPSS laser for excellent laser marking. AIO laser systems are offered in a rugged and lightweight monoblock design and enable a wide variety of marking applications that are also suitable for micromachining.
The "All In One" housing design eliminates the need for external optical fibers and other sensitive cable connections for system integration. A further advantage of the AIO is its simple and reliable integration, even in confined spaces.
More than one USB or network connection to a standard PC is not required to control the AIO All-In-One laser systems. The AIO's compact monoblock design combines resonator and laser source, eliminating both the rack and the fiber that usually connects the optics to the power supply. Communication is via either USB or Ethernet. The distance to the workstation can therefore be almost unlimited and the marking process can easily be spatially decoupled from the control. Compared to conventional laser systems, the industrial connection and integration has been considerably simplified.
The AIO is equipped as standard with two separate safety circuits for emergency stop and safety door and meets the requirements of Performance Level e (PL e / Cat. 4) in accordance with EN-ISO 13849-1. This enables safe and direct integration in a convenient manner.
The compactness, high insensitivity to interference and very user-friendly handling enable excellent operating flexibility and guarantee an optimum cost/performance ratio. With AIO laser systems, a wide range of materials can be marked in a simple and cost-effective way, for which several marking lasers would otherwise be necessary.
The high pulse peak power and excellent beam quality make AIO All-In-One laser systems the ideal partner for the most demanding industrial laser marking applications. AIO All-In-One laser systems can be used either at a manual workstation or as an integration component in an automated system.
Competitive in the fiber segment
The diode service life of the AIO series is in no way inferior to that of the fiber lasers, whereby in the case of maintenance only the change of the diode module is necessary. In contrast to this, the fiber system in most cases requires an exchange of the entire laser unit with a complete stop of the laser marking.
In addition to maintenance, the energy balance of the AIO laser is also particularly efficient.
The Östling AIO family is available in the variants AIO P, AIO M, AIO G and AIO G+. All AIO versions are pure air-cooled and do not require any additional water cooling.
Further features
Installation
Reduced installation effort, Systema 2 library and 3D STEP model available on request
Interfaces
Galvanically isolated interfaces (I/O's, USB, Ethernet), optional Profinet/ProfiBus integration
Maintenance
Low maintenance, almost noiseless operation possible
Quality
Unsurpassed flexibility with high quality
Cooling
Thermoelectric air cooling
Development
Many system components from own development
OEM
OEM models and complete solutions available
Software
User-friendly software under Windows XP / 7 / 8 / 10
Special mechines
Precisely adapted to your needs through in-house special machine construction
[smart-product id="1152″ width="500″ border="false" style="flat-round"]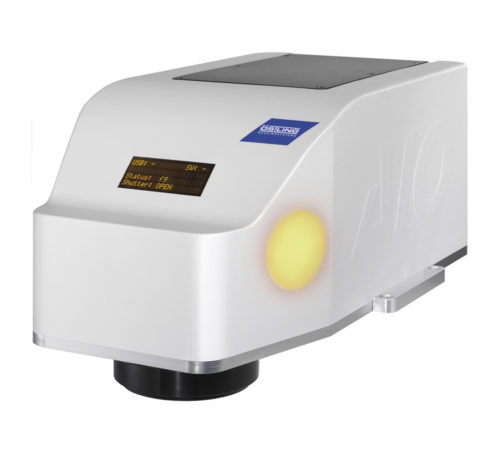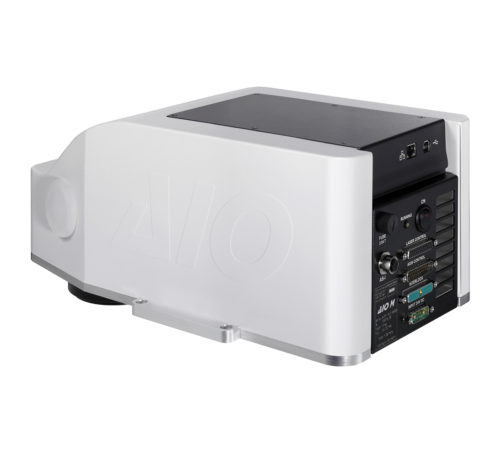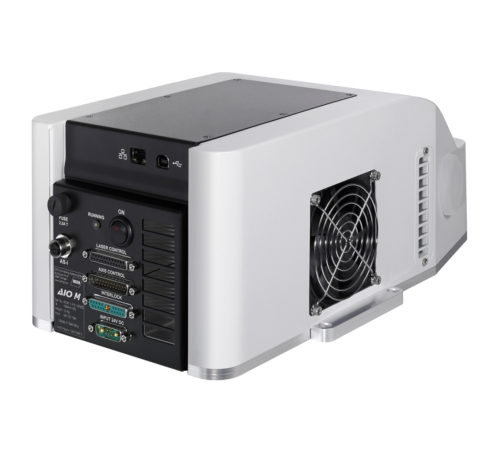 Wavelength

1064 nm

1064 nm

532 nm

532 nm

Laser class

Pulse rate
10 KHz - 100 KHz
10 KHz - 100 KHz
10 KHz - 100 KHz
1 KHz - 100 KHz
Pulse length
15 - 70 ns
7 - 35 ns
10 - 50 ns
2 - 10 ns
Beam quality
< 1.5
< 2
< 2
< 1.5
Electrical supply

24 V DC max 14 A (power supply optionally available)

Cooling

Air-cooled by integrated thermostatic fan

Weight

12 Kg | Power supply (optional) 1,3 Kg

Hardware interfaces

USB, Ethernet, 3 stepper motor axes, galvanically isolated interfaces (I/O's, USB, Ethernet),
two safe inputs up to PL e (Cat. 4) according to ISO 13849-1

Software interfaces

VBScript, ActiveX

Software

XS Designer

Operating system

Win XP, Win 7, Win 8, Win 10

Character sets

Type: TrueType Fonts (filled and unfilled), Single Line Fonts, PostScript Fonts
Orientation: freely rotatable
Character spacing: freely selectable
Circular arc writing: freely scaleable and adjustable

Graphic

Elements: lines, rectangles, circles (filled and unfilled), spline function
Graphic import: vector (HPGL/PLT), bitmap (BMP, JPG, GIF)

Codes

Codes: Code 2/5, Code 3/9, Code 128, EAN 8/13, UPC
2D Codes: DataMatrix, PDF 417, QR-Code, Code 16K
DXF-Type
More than 60 different 1D and 2D codes in total

Further features

Flexible serial numbers, date and time functions
Freely programmable script interface for processing variable data from subroutines
Text and data transfer from databases (ODBC)
Excel tables | TCP/IP client
User-defined masks
Extensive program help and function


Options

Programmable X-, Y-, Z-, rotary axis (up to 3 possible)
Additional laser diode as optical focusing aid
Extraction systems, Profinet / ProfiBus, AS-i Master integrated
Remote control via external command box (e.g. start/stop, emergency stop)
For our various laser marking systems we have an extensive range of accessories available. With different options you can extend the functions of our marking lasers. Below are a few examples of our comprehensive range of laser accessories:
Different housing variants for complete solutions
Rotation axes for round parts, so that the processing distance and laser beam are always perfectly and precisely aligned with the object to be marked.
Height axes in all possible designs (manual, electric, pneumatic, fully automatic)
Axis control UMC box Laser for controlling two additional functions, such as height axis and positioning axis. The rotary indexing table and magazine can also be controlled. With this optional laser accessory, cycle times for laser marking can be greatly reduced.
Barcode scanner for practical reading and activation of data to be marked
Camera systems for automatic machine reading of previously marked data such as 1D, 2D and DataMatrix codes (Please have a look at our information on HIBC and GS1)
Lenses for various applications / marking field sizes and workpieces / materials
Spare parts of all kinds for our marking lasers
Laser safety goggles for different wavelengths available on request
Anybus Communicator PROFINET IRT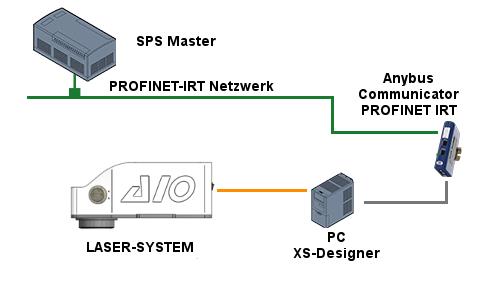 With the Anybus Communicator you can integrate serial devices (RS-232/422/485) into a PROFINET-IRT network. The Anybus Communicator is a proven and reliable protocol converter that connects non-networked devices to PROFINET-IRT. The Communicator performs intelligent protocol conversion and provides the serial data of the higher-level PLC as I/O data. The Communicator is a compact stand-alone gateway for IP20 and DIN rail mounting that requires a 24-volt power supply. It complies with the current PROFINET-IRT specification and has been successfully tested for network compatibility.
More information about laser accessories can be found here.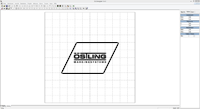 The XS Designer software combines marking software, CAD editor, parameter and interface management, sequence programming and diagnostic tools. This Windows-based marking software makes laser technology easy to master.
Further information about the XS Designer software can be found here.