You want to mark your product? Östling offers you the BEST solution! With 50 years of expertise in industrial product marking, Östling is the ideal partner for all your requirements.
With Östling you cover all areas of product marking – from electrolytic marking processes, lasers, to needle embossing and needle scribing, you are completely supplied by us!
In the event of problems, a total of seven technicians are available to you around the clock seven days a week, as is a member of the coordination team.
We offer all marking equipment, consumables and professional service from a single source!
Our systems are manufactured here in Germany at our headquarters in Solingen.
Quality MADE IN GERMANY!
Laser marking systems
HIGH MARKING SPEED – HIGH QUALITY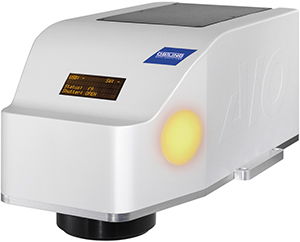 Our marking lasers have been part of our product range for 20 years and mark a wide variety of materials and products on a daily basis. Due to the excellent marking speed and the high quality of the markings, Östling marking lasers are ideally suited for a wide variety of industries and applications.
Our product portfolio now includes nine laser types for all industrial applications. All metals, all plastics, ceramics and organic materials can be marked in the most accurate, forgery-proof, durable and reliable way.
Your contact persons for laser marking systems
Electrolytic marking systems
THE ORIGINAL ÖSTLING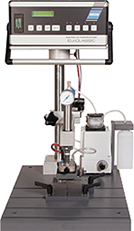 The classic among the marking methods. With a marking template, the marking is permanently applied to the product by means of an electrochemical etching process.
Electrolytic marking systems from Östling are cost-effective and ensure durable and high-quality markings on almost all electrically conductive materials such as aluminium, zinc, copper, silver, raw aluminium, chrome, hard metal, steel, stainless steel, titanium and non-ferrous metals.
Your contact for electrolytic marking systems
Needle embossers
FORGERY-PROOF, DURABLE & FLEXIBLE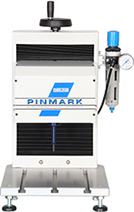 Östling needle embossers are mechanically robust and extremely durable. A straight line is just as exact at the first embossing as after the 2,000,000th! High-quality bearings, bushings and guide axles guarantee life-long use!
During needle embossing, the material is marked with a carbide tip oscillating by compressed air, which is moved in the X and Y directions during its up and down movements.
The marking is created by an (arbitrarily) dense sequence of individual points, whereby either a closed line or a braille is created.
Your contact persons for needle embossers
Needle scriber
FINE LINES, DEEP FONT & QUIET OPERATION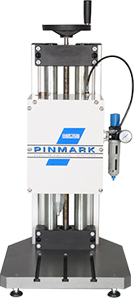 In contrast to needle embossing, needle scribing presses the needle onto the workpiece without oscillation and moves it axially. Machining of the workpiece takes place.
When scribing, a diamond or carbide tip is used for marking. The result is a precise, clean marking image, consisting of a fine line of lines – and that with quiet operation. In addition, considerably larger marking fields are possible than with the needle embossers.
If required, a needle scriber can be easily converted into a needle embosser. Only the needle system has to be replaced.
Your contact persons for needle scribers
Special mechanical engineering
DEVICES ACCORDING TO YOUR SPECIFICATIONS
From planning and design to construction and commissioning, we have been a reliable and competent partner to the industry for many years, realizing mature economic solutions in special machine construction for the most diverse industries.
Thanks to our experienced special machine construction department, we can automate your processes and thus ensure greater efficiency by increasing machine running times and optimizing production processes.
Stommel + Voos
STAMPING MACHINES / MARKING TOOLS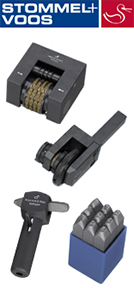 Stommel + Voos manufactures special stamping tools according to customer requirements.
The symbiosis of development, design, machine and tool construction as well as engraving technology guarantees reliable, fast and cost-effective processing of customer-specific orders and projects.
Stommel + Voos Marking Technologies GmbH has been a reliable partner for industry and trade for decades. Stommel + Voos is TÜV-certified and manufactures to the highest quality standards.
Your contact at Stommel + Voos