Larger formats even for very small print runs Simple – Fast – Cost-effective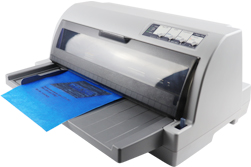 Electrolytic markings of up to 180 x 180 mm (motif size) are now possible with our new "stencil paper blue TYPE 540, 200 x 200 mm, indigo".
In addition to the already large selection of short term stencils, for the fast and demand-oriented production in your company, this new format is now available.
With the help of a dot matrix printer, a typewriter or manual removal of the coating, you can create your own short-term stencil simply, quickly and inexpensively.