Pipe marking without additional rotation axis
Diameter = 90 mm
Marking surface = 43 x 100 mm
Height compensation = 6 mm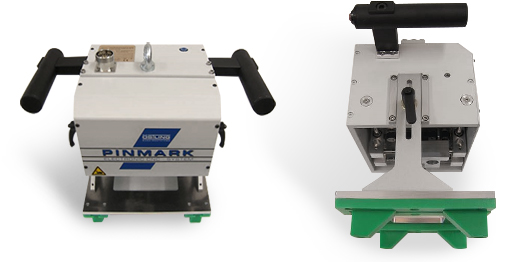 ÖSTLING Dot Peen Marker Typ 5/10
For direct, permanent and flexible marking of round and flat parts of different materials with any texts, logos and 2D codes (Datamatrix).
Compact and industrial design
low vibration, robust construction
Very high marking speeds possible
Low acquisition and consumption costs
Low maintenance
If you want to mark products that are difficult to handle due to their size or weight, the use of the mobile hand tool is ideal for you. The needle embosser is simply placed on the product and the marking is triggered via the buttons integrated in the handles.
The marking field can be positioned either by moving directly to the desired position with the marking needle ("Teach-in") or by entering the coordinates in the marking control. The UMC112 and UMCeco controls can be used. The characters to be marked (text, logo, data matrix) are entered directly via the control. Deep embossing needles can also be used on the NP 5 / 10 and NP 8 / 14 needle embossers.